Company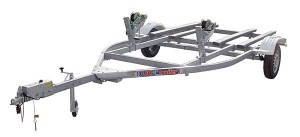 VG Trailers, the only trailer manufacturing company in Cyprus has been tried, tested and found absolutely road worthy. With 45 years' experience in the metal processing industry and 15 years dedicated to the manufacturing of trailers of all kinds, it currently provides the market with an exceptional range of:
Tow bars for every vehicle
General luggage and cargo trailers for every purpose
Boat, lifeboat and jet-ski trailers.
The Company's ISO 9002 certified production unit measuring 1500 sq delivers a full catalogue of adjustable, custom, aluminium, bunk, roller, painted or galvanized trailers, which all meet the strict local and EU specifications. The result is lasting safety and stability.
As the leader in the field in Cyprus, VG Trailers is proud of its excellent track record and reputation that are based on top quality material and manufacturing, excellent service and spare parts supply, all at the most reasonable market prices.
Having proven itself both on the local market and with a growing volume of exports, VG Trailers is set to expand, and is currently in negotiations with overseas agents and distributors.